Take Advantage of This Month's Current Offers
We're Here For You
Al Piemonte Ford always puts customers first!
Don't take our word for it: Read our reviews and see what everyone is saying.
Found auto online. Sent request for more info. Was reached out to right away from Miguel. He was friendly. Every request I asked that he fulfilled immediately. He took videos of everything I asked for. I traveled almost 3 hours to buy this vehicle. Was greeted with friendly faces and good customer service. Miguel and his manager Scott were funny and genuine. I had a few requests and Miguel made them happen. I am now happy to be a new proud owner of a 2020 Ford expedition max limited. Thanks for everything. Speaking with the finance manager when finalizing paperwork he also was very nice and was formative of the warranties he is able to offer. 😀😀😀
The service department was very helpful, when I spoke to Maria Mika she was very helpful and went out of her way to make me feel better her personality was very pleasant and was able to change My mood . I would recommend Al Piemonte to anyone . A big shout out to Maria . They also took me home and picked me up. I don't know what I would of done without her. Very efficient and went out of her way to get the job done.
We just text. They were very courteous and helpful. Not pushy. Possibly the place I might purchase from.
Went to Al Piemonte for a car on Tuesday, drove out in a few hours with my 2018 Ford Fiesta! My sales consultant Michael Miranda, was awesome and professional he helped me through the whole process with ease. I absolutely love my car.
Estuvo excelente la atención prestada hacia nosotros, estamos muy a gusto con nuestra camioneta. Muchas gracias y muy agradecidos con ustedes. Felicitaciones!!! Gracias!!! En hora buena.
The sales guy was great. He took time with me and let me go back and forth patiently until I made up my mind. It was a little higher than I wanted to pay but I got all the extra stuff that I wanted but that was my decision. They have a very nice professional atmosphere. And everyone was helpful and courteous.
I went to this dealership after being turned down somewhere else. When I walked in Hank came over to me limping asking if I needed help, and immediately he got to it. I told him what I needed and how much I was willing to pay. He worked so hard for me despite the fact that he was a little under the weather. After some time of being there he came back to the desk congratulating me for getting approved. He took me out showed me this Jeep that I absolutely loved it had everything I wanted, and more. When we were wrapping up, and I went to talk to finance my payments per month actually dropped lower than I expected. My overall experience was awesome, and I'll recommend anyone to Hank.
Service was outstanding. Price was within my range. Miguel Mancilla was great. Explained everything thoroughly and even delivered my car to me at home. A little mini "caravan" but great customer service.
Great experience and friendly help me pick out the car that I wanted. Helpd get the price down to what was in my price range.
Every bit of info I received was excellent! Brian made my decision easy. He was so informative! He showed me the car I requested and explained exactly how to operate.
I needed a car hank helped me get in one and I'm very excited and thankful to be able to get get around the city again,thanks hank.
Amazing people and amazing service. I will not buy a car anywhere else. All of the employees here are knowledgeable, friendly and willing to go the extra mile not only for a good deal, but for a great experience when buying a car. A+
I worked with Miguel Mancilla to purchase our new Ford Edge and he was excellent. He helped us find exactly what we wanted and made our purchase extremely easy. Go see Miguel!
Went to this dealer for the 2nd time in 6 months to trade in a 2014 Escape to purchase a 2017 Escape however, the 2017 was not available but we did purchase a 2018 instead and we are happy with our purchase. There was a miss understanding with John when picking up the car today but he did apologize, correct the mistake and was very helpful with getting us service.
I bought a transit 250 from Jack Zareba in commercial sales and he set it up so easy for me. He sent over price and played no games so I didn't have to take off work. I called him told him what I wanted and he gave me a great price. I just had to go in and pick it up. Super easy way to buy.
They are awesome to work with got me in and out in a couple of hours. They worked with me and I am very pleased with the new purchase. I was amazed at how quickly they responded and got me in and out quickly. They are great to work with!
amazing people working there. everyone knows how to greet people make you fell at home.This makes the second car that Mort has help me purchase in one year
This is the 3rd vehicle I purchase with this dealer and have use the same sales person Hank for all of them. He is amazing he truly goes above and beyond and deserves an excellent on his rating. He is honest and truly very helpful. I've had great experiences and would highly recommend this team
Being female it is always intimidating to walk into a dealership. Al Piemonte Ford is a place where you can feel comfortable. Henry Reyes is my salesman and I couldn't recommend anyone better. He will go above and beyond to get you the best deal possible and he won't stop until he does. Henry is the type of salesman that you can rely on even after the deal is done. If you have and questions or concerns he will do his best to answer or resolve them. If you are looking to purchase a vehicle, Henry is the man you need to see. He won't let you down.
I would recommend hank to any of my family and friends he really helped me out great guy will do business there again very helpful
Henry Reyes helped me out making sure that I left the dealership happy as well in style . He made sure I was taken care in the best way possible ! He didn't take his attention off of me the entire time making sure he was straight forward with me as well
My salesman Jim was attentive and respectful to my needs and guidelines of what I was looking for.He did not try to "push" outside of that and he did the best at putting options on the table for my budget. He went up and beyond to satisfy me as a customer. I couldn't of asked for a better experience not only with Jim but overall with the dealership!
Brought my 2014 F150 XLT in (which i purchased new from Al Piemonte Ford) for some maintenance and decided to look at leases on a new 2017 F150 lariat just to get an idea. The truck I wanted was pretty expensive and the initial numbers were car out of my comfort range, but after telling them what I was willing to pay the met my number with almost no negotiating at all. Really easy and stress free. Miguel helped me and he was great. This is my 5th vehicle purchase from AP Ford and there will probably be many more.
Thanks to alpiemonte ford personel for all your good help and friendly service that's all I have to say thanks agian5gor your good service.
Al Piemonte is my go to place when buying a ford! Everyone is helpful, courteous and very appreciative of your business. They really work with you in getting the best deal you can afford. I would highly recommend Andre and Lanell for their excellent customer service skills!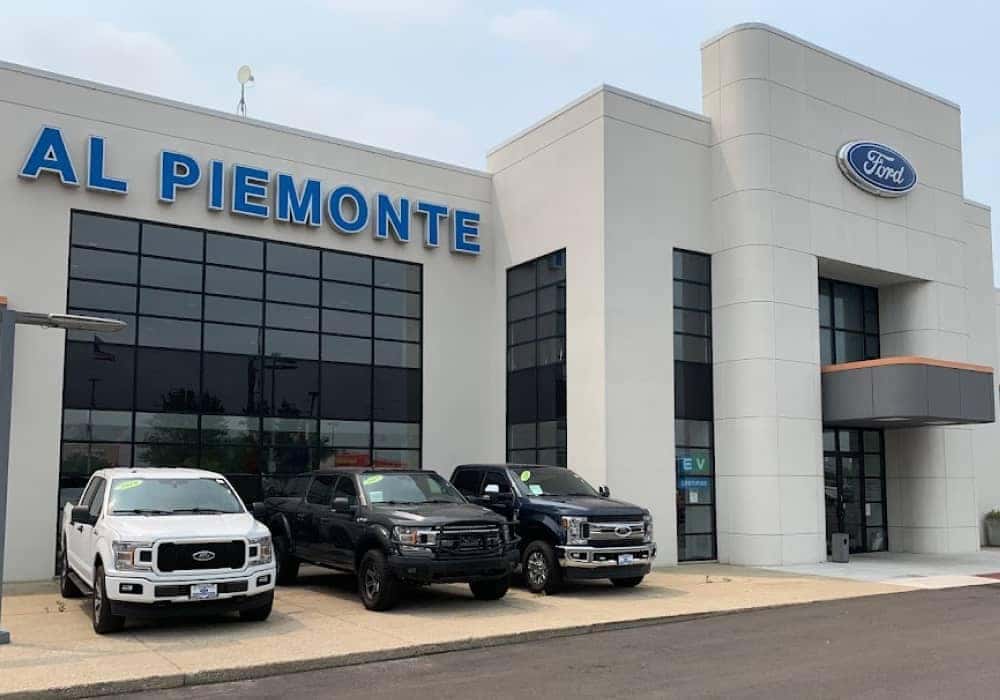 Get Directions To Our Dealership
Welcome to Al Piemonte Ford
Al Piemonte Ford is your premier Illinois Ford Dealer located in Melrose Park, IL.
We offer Award Winning Sales and Service with Great Pricing and specials on our New, Pre-Owned Ford Vehicles and other Pre-Owned vehicles.
Get a quote on the Ford Vehicle of your choice, or shop for the lowest rate and Apply for Financing with our Online Ford Credit Application.
Our new Ford vehicles are pre-inspected and ready for delivery. They consist of: Ford Fusion, Ford Mustang, Ford Transit Connect, Ford Transit Connect Wagon, Ford Explorer, Ford F150, Ford Edge, Ford Escape, Ford Expedition, Ford Econoline Cargo Van, Ford Econoline Commercial Cutaway, Ford Super Duty F-250, Ford Super Duty F-350 DRW, Ford Super Duty F-350 SRW, Ford Super Duty F-550 DRW, Ford Super Duty F-450 DRW.
• Summit Argo Ford Dealer • Elk Grove Village Ford Dealer • Clarendon Hills Ford Dealer • Itasca Ford Dealer • Niles Ford Dealer
Contact Us