Must be enrolled in FordPass Rewards to earn or redeem FordPass Rewards Points. Points are not redeemable for cash or check. See the FordPass Rewards Program terms and conditions at FordPassRewards.com for information regarding expiration, redemption, forfeiture and other limitations on FordPass Rewards Points. Offer valid 2/1/23 to 3/31/23. See Service Advisor for vehicle applications and offer details through 3/31/23. Motorcraft® is a registered trademark of Ford Motor Company.*

*Dealer-installed retail purchases only. Limit one offer per vehicle. $100 tire rebate or 25,000 FordPass Rewards Points on Michelin, Pirelli and Yokohama. $70 tire rebate or 23,000 FordPass Rewards Points on Goodyear, Dunlop, Bridgestone and Toyo. $60 tire rebate or 21,000 FordPass Rewards Points on BFGoodrich and Firestone. $50 tire rebate or 21,000 FordPass Rewards Points on Nitto. $40 tire rebate or 21,000 FordPass Rewards Points on Uniroyal. Medium/commercial Toyo tires are excluded. Must be enrolled in FordPass Rewards to receive FordPass Rewards bonus Points. Points are not redeemable for cash or check. See the FordPass Rewards Program terms and conditions at FordPassRewards.com for information regarding expiration, redemption, forfeiture and other limitations on FordPass Rewards Points. Offer valid 2/1/23 to 3/31/23. Submit rebate by 4/30/23 by mail-in rebate form or online at ford.com/service-rebates. ** Cannot be combined with any other tire manufacturer-sponsored rebate/offer. See participating U.S. dealership for vehicle applications and offer details through 3/31/23.
Take Advantage of This Month's Current Offers
We're Here For You
Al Piemonte Ford always puts customers first!
Don't take our word for it: Read our reviews and see what everyone is saying.
I had a positive experience with Al Piemonte Ford in Melrose Park. I just lost my father. My dad did business with them when he was alive, and recommended them. Eddie Rodriguez was the sales agent that took care of him. He remembered me, was compassionate, knowledgeable, helpful and expedited the transaction in a fair manner. Thank you.
Found auto online. Sent request for more info. Was reached out to right away from Miguel. He was friendly. Every request I asked that he fulfilled immediately. He took videos of everything I asked for. I traveled almost 3 hours to buy this vehicle. Was greeted with friendly faces and good customer service. Miguel and his manager Scott were funny and genuine. I had a few requests and Miguel made them happen. I am now happy to be a new proud owner of a 2020 Ford expedition max limited. Thanks for everything. Speaking with the finance manager when finalizing paperwork he also was very nice and was formative of the warranties he is able to offer. 😀😀😀
The service department was very helpful, when I spoke to Maria Mika she was very helpful and went out of her way to make me feel better her personality was very pleasant and was able to change My mood . I would recommend Al Piemonte to anyone . A big shout out to Maria . They also took me home and picked me up. I don't know what I would of done without her. Very efficient and went out of her way to get the job done.
We just text. They were very courteous and helpful. Not pushy. Possibly the place I might purchase from.
The Very Best experience EVER purchasing a car. My sales representative is the best. He was professional, kind, honest, patient and the list goes on! 10,000 stars would not be enough to award him!
Jose Gonzalez is a great guy. He has experience in finance and helped me to get a good deal.
Danny did his job for sure. I knew I wouldn't purchase if the price wasn't right. We worked together and got me some numbers that I couldn't refuse. I was so satisfied that I even told my brother to come down and make a purchase. We both end up leaving with the trucks we wanted man!
Alpiemonte Ford is very professional and honest, first time I've had a dealer where they tell you not to add something on and are honest about it's quality. Mike Miranda was one of the funniest and professional sales representatives I've ever worked with in any business. Had a smile on my face the entire time working with him over 6 months to get my new car.
Went to Al Piemonte for a car on Tuesday, drove out in a few hours with my 2018 Ford Fiesta! My sales consultant Michael Miranda, was awesome and professional he helped me through the whole process with ease. I absolutely love my car.
A friend suggested this dealership in looking for a new car for my daughters 21st birthday in November. And make sure I see Carlton King...Glad I did!👍🏾
Lavern my sales person and Boris the manger. They help me purchase my first car. I'm a college student and they made it happen. You are treated like kings and queens here. Best service of my life. I'll for sure be coming back to purchase future cars and even my future kids cars! Love this place! GO HERE!
Steve, is good salesman very happy experience with him eve though I didn't buy car he treated me like family. I will recommend him to all my friends and associates. I will be buying a new ford bronco when they come out. Al Piemonte is a nice place to do business.
After a long week of car shopping I found myself with Steve who was a great advocate for me and helped me get into the perfect car. Steve made me feel welcome and comfortable, even Doordashing Starbucks for my girlfriend and myself while we started our long car buying process. It's very seldom you can find a car salesman you feel you can trust, but Steve truly goes the extra mile for all of his customers.
I would highly recommend this dealership. I worked with Steve Martin. He was very helpful in explaining all the details and very informative and I got amazing deal.
Highly recommend this dealership. Steve was our sales person, and to be totally candid, he is a true gentleman and scholar. (I VERY rarely use those descriptors for anyone btw.) He was super pleasant to work with, offered great explanations to both me and my wife after the sale on the overall awesome technology.
This dealership is the best! My salesman, Steven was the best car salesperson I have ever worked with. He goes out of his way to get you exactly what you want and you will feel confident that he gave you the best deal that he could, he does not play games like I have had in the past with others. Everyone who works there is wonderful to deal with. Will be going back in three years when this lease is up.
I made an appointment and they serviced my right on time. Nick my seals person helped me once again. He's always great! The other guy was also awesome in the service department. Thanks El Piemonte ! See y'all soon 😉
Steven Martin is very friendly and patient. He helped me get a car that I wanted. He is not pushy. He took is time and answered all of my questions.
Steven Martin best salesman in the whole dealership George used car manger was very helpful Definitely would come here for another car. Price was fair and sales process was quick.
Went to this dealership and worked with Carlton he was the absolute best he made sure I left the car lot with a smile on my face I love my new 2016 Chevy Malibu the environment is very clean and fun and the staff makes you feel comfortable during the whole process I would definitely recommend working with Carlton if your looking to leave the car lot with a new or used vehicle he will definitely make sure you leave out happy and well taken care of!!!
Very happy with my car. Everybody is friendly just a nice place to buy a car. I will be back again. Thank you Steven Martin for your help
This place was GREAT! A Special thank you to Steve, for making us not feel not pressured and answering all our questions! Steve was amazing And very knowledgeable. If you need a car Steve Martin is definitely your guy! Thank you
I have been looking at this dealership for a couple of months and have been avoiding going for some odd reason. I went this past Wednesday because i felt lucky and left out with a 2020 with low miles. They made the process fast and easy. I was so happy and I'm still happy. This is the place to get a car at.
I purchased 5 vehicles and I would never go anywhere else, very professional! I was impressed as you walk in as a customer and leave like part of there family, the sales professionals take the time to get you in the correct vehicle that fits your needs, Matt in finance will fight to get you the best rate possible . The service department is very professional and gets it right the first time. They offer a loaner if it's going to be a timely repair! Thanks for the trouble free purchases... Ray R
For sure the best! There professional staff will take however long it takes to get you in the vehicle that fits your needs! They don't just shove you in a vehicle to make a sale! I have purchased 5 vehicles from this dealership and it's always trouble free! Most dealers treat you like a number! When entering this dealership you become family and that is the way your treated! Also the service department is the best I have ever been to! I definitely highly recommend them! Thanks again for the trouble free purchase! See you soon for vehicle #6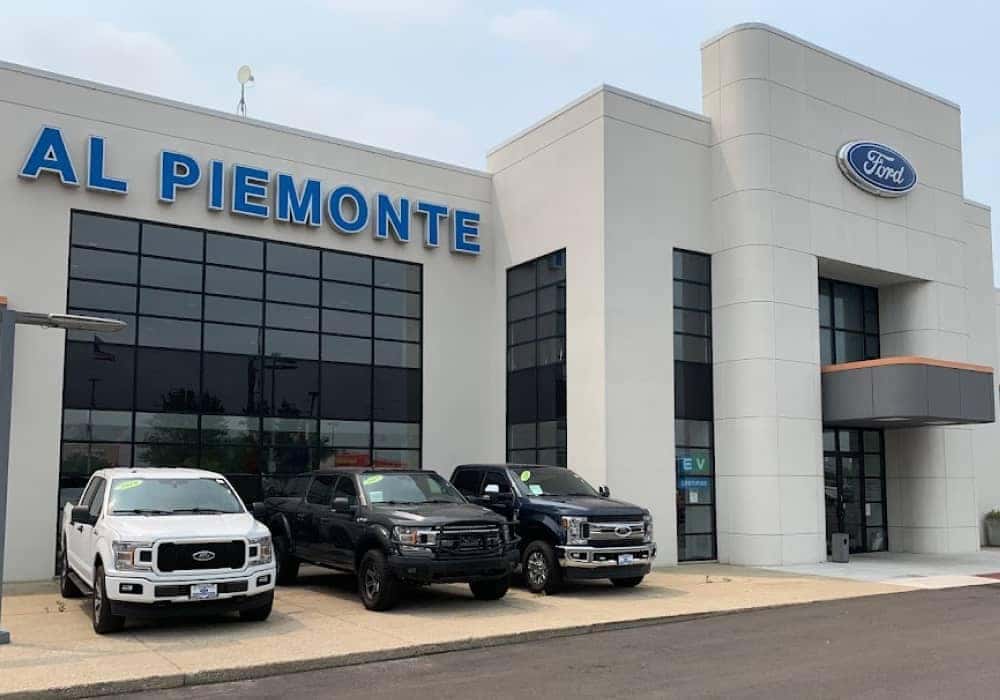 Get Directions To Our Dealership
Welcome to Al Piemonte Ford
Al Piemonte Ford is your premier Illinois Ford Dealer located in Melrose Park, IL.
We offer Award Winning Sales and Service with Great Pricing and specials on our New, Pre-Owned Ford Vehicles and other Pre-Owned vehicles.
Get a quote on the Ford Vehicle of your choice, or shop for the lowest rate and Apply for Financing with our Online Ford Credit Application.
Our new Ford vehicles are pre-inspected and ready for delivery. They consist of: Ford Fusion, Ford Mustang, Ford Transit Connect, Ford Transit Connect Wagon, Ford Explorer, Ford F150, Ford Edge, Ford Escape, Ford Expedition, Ford Econoline Cargo Van, Ford Econoline Commercial Cutaway, Ford Super Duty F-250, Ford Super Duty F-350 DRW, Ford Super Duty F-350 SRW, Ford Super Duty F-550 DRW, Ford Super Duty F-450 DRW.
• Hinsdale Ford Dealer • LaGrange Ford Dealer • Fox Valley Ford Dealer • Addison Ford Dealer • Lombard Ford Dealer
Contact Us