Refinance Your Car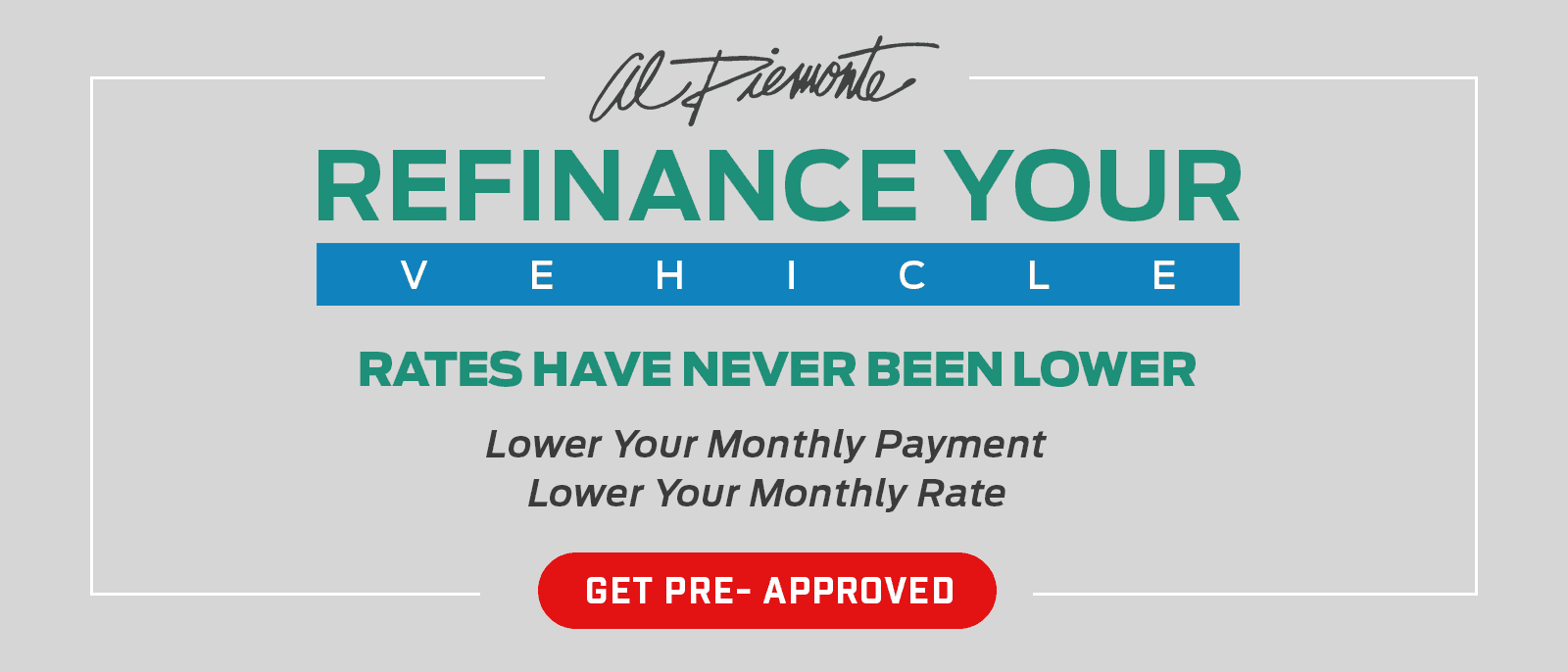 Refinance Your Vehicle at Al Piemonte Ford
---
Are you looking to lower your monthly car payments? Do you think your interest rate is too high? If you answered yes to either of the above questions, you may be able to refinance your car loan. Our Al Piemonte Ford team can provide you with all of the information you need to refinance your loan, whether you purchased your vehicle from us, another dealer, or independently.
Why Refinance Your Car?
---
Refinancing your car loan can bring you a lower interest rate, which in turn can reduce how much you pay each month. You may be able to obtain considerable savings throughout the life of your loan, since interest rates have dropped recently. If your credit score has improved since you purchased your vehicle, or if your financial situation has changed, you may also qualify to refinance your loan.
STEPS TO TAKE WHEN REFINANCING YOUR CAR LOAN
Check Your Credit Score: If you have been making your car loan payments and paying your other bills on time, it's likely that your credit score has improved. It's important to have your most up to date credit score when starting this process, since a higher credit score can increase the likelihood of lowering your interest rate.

Find Out Your Current Interest Rate: The most important factor to consider when refinancing your loan is to determine how much you are currently paying. You can find out your current interest rate by checking your loan statements or by getting in touch with your lender to confirm the rate.

Apply For Refinancing: Submit all of your refinancing applications within a 14-day period to minimize any negative impact to your credit score. It is best to apply to more than one refinancing company so you can compare different rates.

Analyze Your Offers: Compare the offers you receive and run the numbers to see if any of them provide you with the monthly payments you desire. If you need assistance, you can contact our Al Piemonte finance team, or use our monthly payment calculator.

Decide on your loan term. After reviewing your offers, you will need to decide between a longer and a shorter term loan. Shorter term loans will offer lower interest rates and less interest overall, but will come with larger monthly payments. Longer term loans will typically come with smaller payments, but you will end up paying more interest over time.
IMPORTANT FACTORS TO CONSIDER
Here are some important factors to keep in mind when refinancing your car to ensure that you're making the best and most informed decision:
Fees. Some car loans have fees associated with ending your car loan early. It's important to check your original loan to see if there are any fees involved. If this is the case, you must weigh the fees against the cost savings to make sure you will be saving overall.
Underwater Finances. Do you know how much your car is currently worth? How much do you still owe on the loan? If the remaining balance on your car loan is higher than what the vehicle is worth, it may be difficult to refinance.
Older Vehicles. Many lenders won't refinance if your car is older and has experienced major depreciation.
Make the Best Decision with Al Piemonte Ford
---
It's important to make sure you choose the offer that works best for your situation. Our Al Piemonte Ford finance experts are always on standby to help you refinance your auto loan. Contact us today with any questions, for more information or to get the process started!