Des Plaines IL Ford Dealership
The Ford Dealer Des Plaines Residents Trust

Al Piemonte Ford near Des Plaines, IL is proudly serving the residents of this unique town. We are a Ford dealership they can trust, and because of that, we are also their first stop when it comes to buying a new vehicle.
Des Plaines residents have a lot to be proud of. It's a unique town with rich heritage and one of the best places to live in the United States. Des Plaines is also a safe town and has an incredible Des Plaines Ford dealership nearby.
This town is growing each year, and more families are relocating to this little haven to raise their children. Therefore, they are often on the lookout for fantastic deals, which our Des Plaines Ford Dealership can certainly offer them.
Inside Our Des Plaines Area Ford Dealership
When you visit Al Piemonte Ford, we expect you to leave satisfied. Because of that, we train our employees to treat our future and returning customers with the utmost respect. You will never feel unwanted in our store, nor will you ever suffer through long waits. We pride ourselves on our fast service, and our staff will do everything they can to make you feel welcome and taken care of.
Whether you are looking for a new Ford or maybe checking out some of our used models, our Des Plaines Ford store has a great deal for you. After all, once you use our services, you are no longer just a customer to us. You are a part of the ever-growing Al Piemonte family.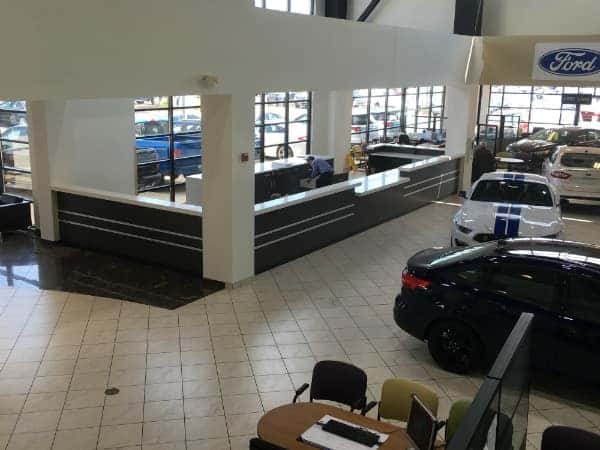 Complete Service & Parts Options For Your Ford Vehicle
At our Ford dealership near Des Plaines, IL, we'll get you any original Ford part you might need. From batteries to floor mats, our staff will look through our inventory and find what you are looking for.
However, even if the part is out of stock, you don't have to look somewhere else. We can make a special order for whichever part you need – and the parts usually arrive in a matter of days.
Meanwhile, if you are ever in need of Ford service near Des Plaines, IL, you can always come to us. Our trained technicians know each model like the back of their hands. Complicated repairs are just another challenge for them, and they will make sure you leave with a car in top-notch condition.
Moreover, routine maintenance checkups are vital if you want to keep your car in optimal condition. And, in our Des Plaines dealership, you can get complete service for a fantastic price.
New, Used & Commercial Ford Vehicles
When buying a vehicle, our customers are always faced with a dilemma. Should they buy a pre-owned car, or perhaps a new model?
Well, at Al Piemonte Ford we can help you make that decision. We have an excellent inventory of both new and used vehicles. Whether you are looking for new cars or used Ford trucks in Des Plaines – our staff will show you around and guide you in the right direction.
In addition, Al Piemonte Ford also offers a variety of commercial Ford vehicles. We know how important it is to find the best model for your line of work – and our commercial department will help you during that process.
From Ford F150 to the Ford Cutaway Van E450, an abundance of choices awaits you.
What Customers Say About Our Ford Dealership Serving Des Plaines, IL
If you are interested in knowing more about our staff and our service, you are free to look at customer testimonials.
Our customers are the main reason why we are always trying to improve our processes. They are the essence of our existence, and without them, Al Piemonte Ford probably wouldn't even exist.
Therefore, we try our best to give each and every one of them a pleasant experience. Hence, their reviews are our pride and joy – the written proof of our work ethic and our customer service.
Customers often mention our fast service and our no-nonsense approach. That's because Al Piemonte Ford believes that it is crucial to give an honest opinion and to present the best possible solution. There is no point in wasting their precious time, and because of that, we are always doing our best to meet their needs as fast as we can.
Our goal will always focus on providing amazing service at our Des Plaines Ford dealership!